On the 9th of March, Cambridge Infectious Diseases successfully celebrated its Annual Symposium. Finally, after two years of break, we could bring back talks to the stage and face-to-face discussions in diverse areas related to infectious diseases. In this edition, the symposium focused on 'Past, current and future epidemics' and had contributions from COVID-19, AMR and other epidemics. 
The journey started with Prof Sharon Peacock, speaking about the formation and leading of COG UK - how the consortium informed the government on public health decisions and the emergence of new virus variants. Following, Prof Daniela de Angelis presented her work on real-time monitoring of the SARS-COV2 pandemic, integrating data and statistical models.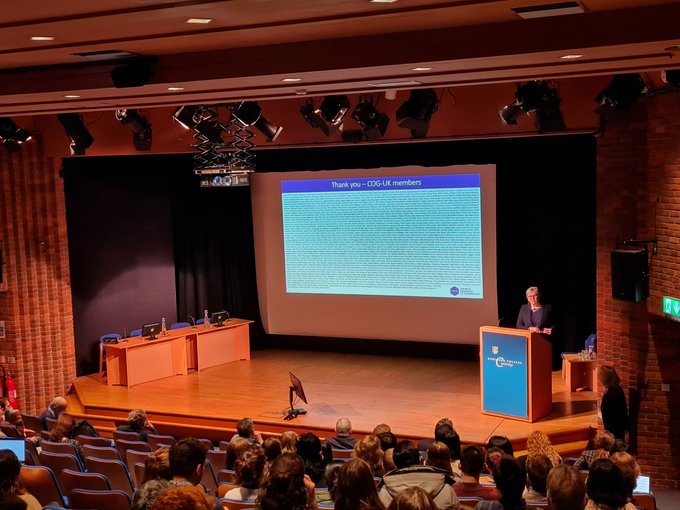 Bringing some socio-economic insights, Prof Tiago Cavalcanti presented Brazilian social media data as a case study for how a leader's speech can change people's behaviour during a pandemic. And next, Prof Andy Woods talked about aerosol dispersion in hospitals. 
After the break, Dr Mary Dobson told us about echoes from past pandemics, such as the Spanish flu. Prof Nick Thomson brought more recent historical tales, learnt from genomic insights on the spread of cholera. After, Prof Julian Parkhill brought answers from the interface between genomics and epidemiology on the question 'What does transmission actually mean?'. Dr Freya Jephcott and Dr Charlotte Hammer closed our second session by speaking about epidemiological obfuscation and their Hidden Epidemics network. 
 
Back from lunch, talks focused on antimicrobial resistance (AMR): the silent pandemic and a growing concern. Prof Andres Floto opened the session by talking about multidrug-resistant Mycobacteria, and Prof Ben Luisi followed on membrane transporters. Next, Dr Wes Robertson brought in some synthetic biology presenting his work on recoding a bacterial genome to include non-canonical amino acids and produce new polymers.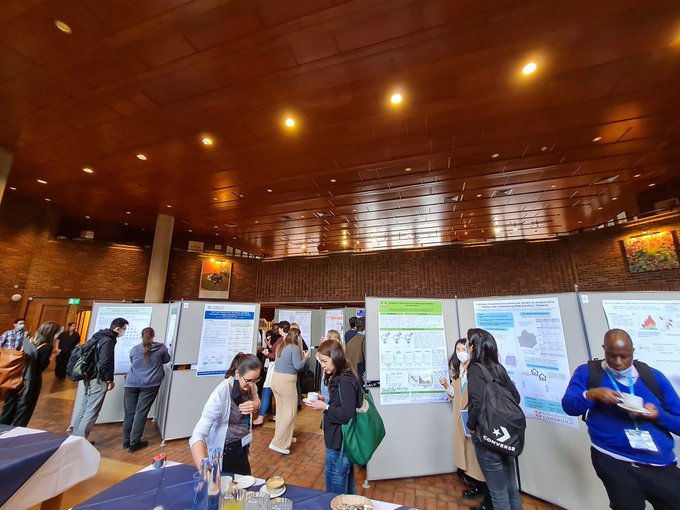 After that, ten of our Early Career Researchers gave a quick view of their outstanding research through strictly timed flash talks. 
PhD students and postdocs could also exhibit posters on their latest work during the breaks. Hopefully, discussing science with a coffee and some biscuits led to new ideas and collaborations! The company Illumina, who sponsored the event, was also present in the Dining Hall, showcasing their products and offers to those interested in genomic sequencing. 
After a break with a small 'surprise', the afternoon session continued with Prof Dave Spring, talking about discovering new antibacterials. Prof Mark Holmes followed, posing questions and their research answers in a European-wide study focused on MRSA-carrying hedgehogs. 
Finally, our keynote speaker Prof Dame Sally Davies closed the session advocating for AMR and government response.
The day could not end without some awards: for our best poster and best flash-talk winners, Emma Jones and Eliza Rayner, but also for the AMR Sandpit best research project, the Smart Probiotics team, awarded a pump-priming grant.
We had a journey full of talks, discussions, and reunions, which we all celebrated with some drinks before heading back home. 
Well done, Cambridge Infectious Diseases researchers – very much looking forward to the next edition!
---
See the full archive of the Annual Symposium 2022 webpage here.